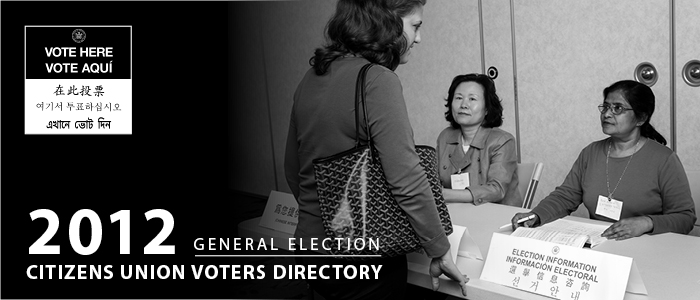 Welcome to the online Citizens Union 2012 Online General Election Voters Directory.  This page contains information regarding each of the 14 races that were evaluated by Citizens Union, which can be accessed through the links for each district below.  Each district's page contains:
individual summaries of candidates who were interviewed by Citizens Union;
the rationale for Citizens Union's support for a particular candidate (please note that Citizens Union issues a "Preference" for the Primary Election, and an "Endorsement" only in the General Election);
candidates' detailed questionnaire responses;
links to campaign finances filings and other candidate information; and
links to district maps.
Please also see the print version of the 2012 General Election Voters Directory and Citizens Union's press release regarding our 2012 General Election preferences.  See also our separate press release for Senate District 15.  Excerpts from the print directory are available below.
All questionnaires submitted to Citizens Union for contested general elections are available; please note, however, that due to limited capacity, Citizens Union is not able to evaluate every race taking place in New York City.
Our past preference and endorsement decisions are also available.
NEW YORK CITY DISTRICT RACES FOR STATE LEGISLATURE
 Find your district and polling place
Incumbents are marked with an asterisk (*)
Bronx State Assembly Race
Assembly District 81 – Jeffrey Dinowitz* endorsed over Judith Kunz
Bronx City Council Race
Councilmanic District 12** – No endorsement between Andy King, Joseph Nwachukwu, Cheryl Simmons-Oliver, Michael Welch, Pamela A. Johnson, Garth Marchant, Nevile Mitchel
**Note that for City Council District 12, this is a Special Election to fill the remainder of the term, which will complete at the end of 2013
---
Brooklyn State Senate Races
Senate District 20 – Eric Adams* endorsed over Rose Laney
Senate District 22 – Martin J. Golden* endorsed over Andrew Gounardes
---
Manhattan State Assembly Races
Assembly District 65 – No endorsement between Wave Chan and Sheldon Silver*
Assembly District 76 – No endorsement between Micah Kellner* and Michael Zumbluskas
---
Queens State Senate Races
Senate District 11 – Tony Avella* endorsed over Joseph Concannon
Senate District 15 – Joseph Addabbo* endorsed over Eric Ulrich
Senate District 16 – No endorsement between Toby Ann Stavinsky* and J.D. Kim
Queens State Assembly Races
Assembly District 25 – Nily Rozic endorsed over Abraham Fuchs, William N. Garifal Jr and Jerry Iannece
Assembly District 40 – Ron Kim endorsed over Philip Gim
---
Staten Island State Senate Race
Senate District 23 – Diane Savino* endorsed over Lisa Grey
Staten Island State Assembly Races
---
Additional information
Campaign contributions
Candidates and issues
Incumbent records